50 years of Hip Hop
As Hip-Hop turns 50, we're not going to tell you what's already very well documented and celebrated by people with way more authority on the subject than us. But, whether you're an authority or spectator, everyone has their own personal hip-hop years, not defined by time, but by a specific brand and style of hip-hop bravado. Ours was at the height of Missy Elliott, Diddy, Snoop, Dre, Lil Kim and Eminem. The hip-hop aristocracy. Big on bling and talent. It was, and still is, epic, in the true sense of the word. And this informed our hip-hop journey with Michèle Lamy.
Michèle Lamy has been boxing for decades. In more recent years, she pulled different punches with a movement she created called "What are we fighting for?". A movement she started in the boxing ring that quickly gained momentum in the streets and into the hearts of every disenfranchised one of us.
Knowing we would be inspired by the unexpected narratives behind boxing culture and its connection with fashion history, Michèle asked us to design a T-shirt for the cause.
The design process started in 1970's New York gang culture.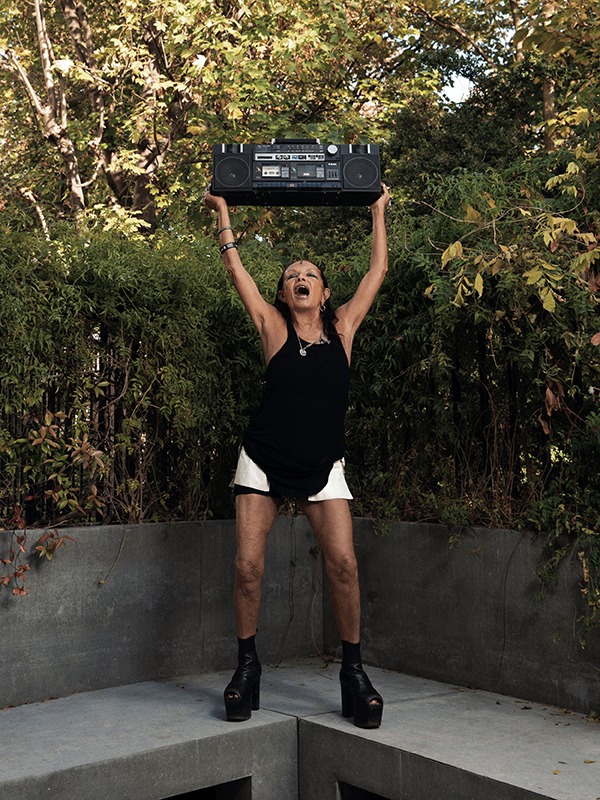 1970s
GANG CULTURE VIOLENCE IN NEW YORK AT A RECORD HIGH.
The Bronx youth govern themselves through aggression as a consequence of long lasting systemic oppression and racial prejudice.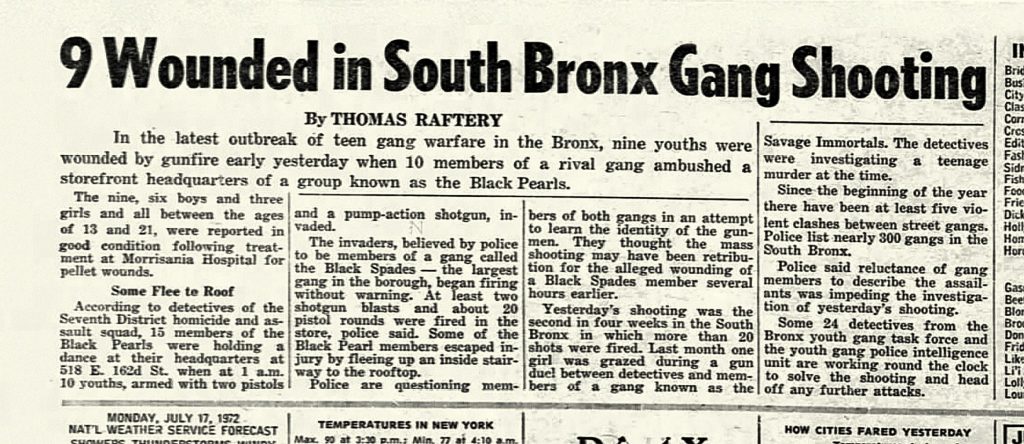 1971
A NEW ERA OF HIP-HOP MUSIC REPLACES GANG VIOLENCE.
Ghetto Brothers gang member Black Benji dies trying to spread peace. Gang President, Karate Charlie & VP Yellow Benji calls for a Peace Treaty: Gangs sign an agreement to end war against each another.
Block parties emerge as gangs invite each other onto previously forbidden turf. Members take on new roles in music, forming bands and becoming DJ's. Afrika Bambaata, a former member of the gang Black Spades, turns DJ and formed the band Zulu Nation.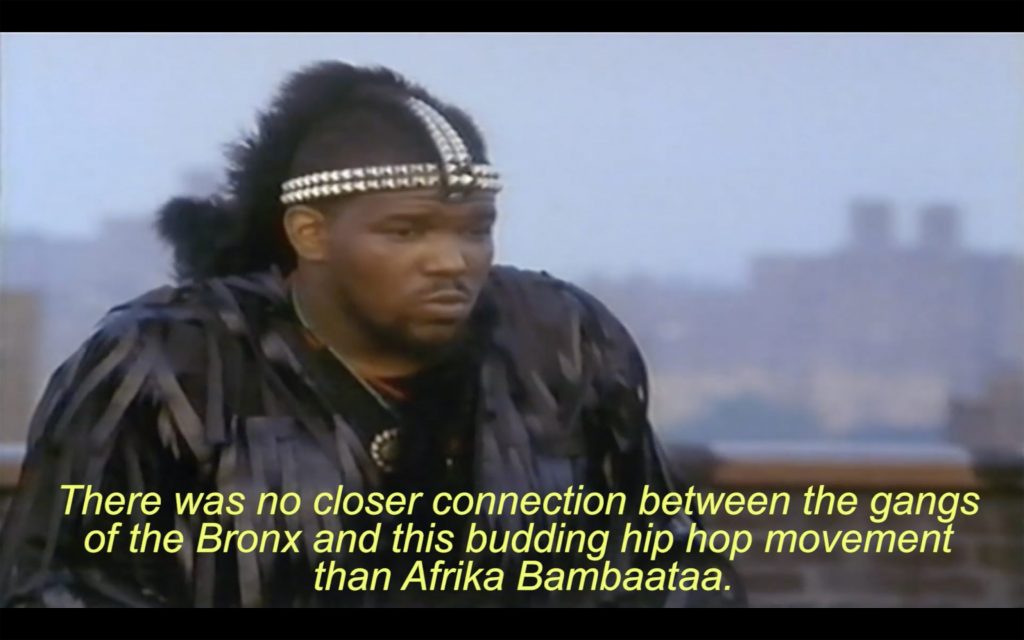 1973
MC'ING REPLACES PHYSICAL STREET FIGHTS.
People like Kool Herc, who came to be regarded as the "Father of Hip-Hop", battle through verses and rhymes for status and respect.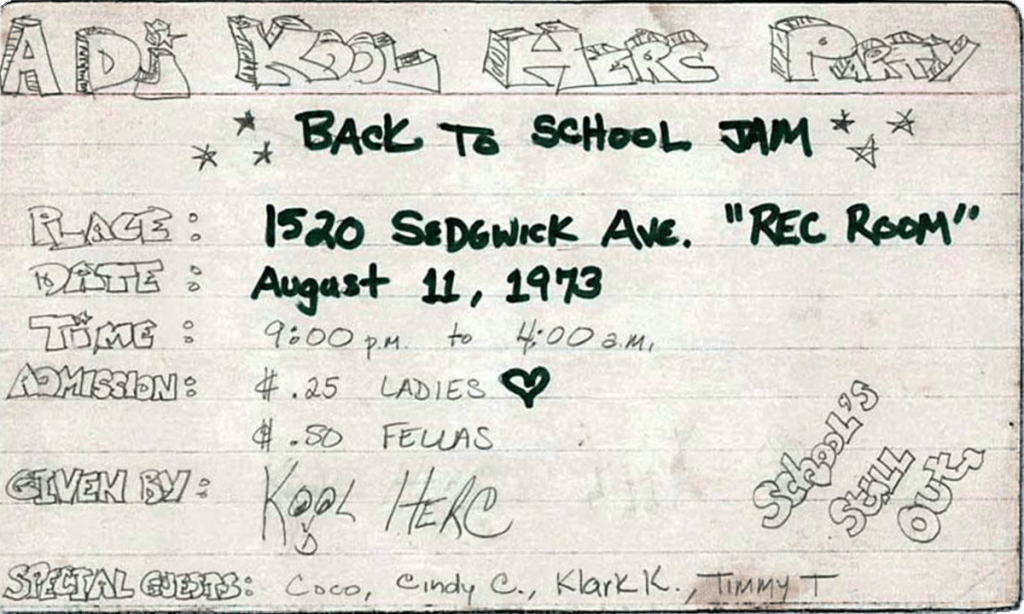 1975-1985
SIMILAR TO BOXING, RAP BATTLES EMERGE TO OUT-SCRAP AND OUTLAST YOUR OPPONENT.
Hip-hop culture becomes influential across industries, particularly boxing, which was relatable to rappers who historically experienced life around gang violence.
Mohamad Ali's lyrical banter is celebrated by rappers. Mike Tyson declares rap to be a celebration of the "pride of the culture."
Video: Mike Tyson, LL Cool J, Eric B, Grand Master Dee, Flava Flav, Dope Jam Tour, Las Vegas.
1987
HIP HOP UNIFORM HEAVILY INFLUENCED BY BOXING HEROES.
Eric B & Rakim, NYC. Shot by Janette Beckman.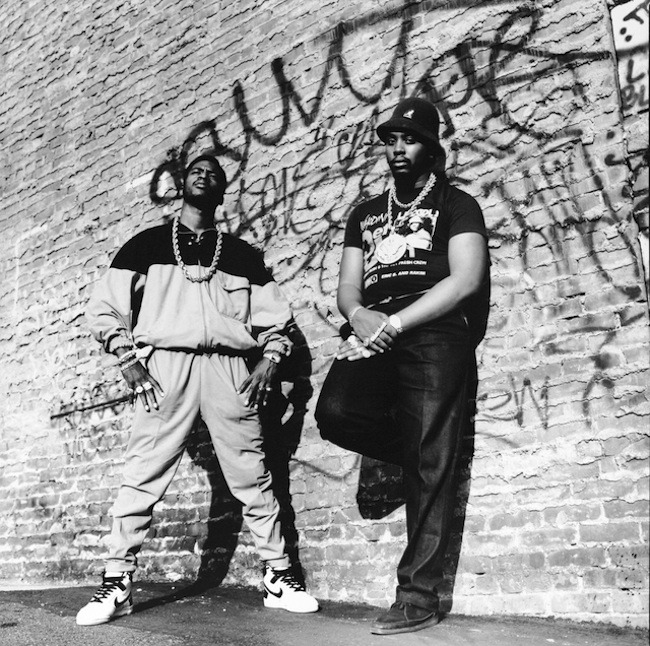 1989
RAPPERS AND MTV CELEBRATE BOXING AS SYMBOLIC FIGHT LINGERS.
LL Cool J's "Mama said knock you out," becomes the most played song that fighters walk out to the ring to.
As hip-hop grows in popularity so does the $$$$. A new ghetto fabulous style emerges inspired by the spoils of boxing; gold rings, ropes and grillz, which were historically worn to either hide the broken front teeth of gang members or as a displayof wealth, status and style.
2002
RAP BATTLES GO MAINSTREAM.
Rappers and MTV celebrate boxing as symbol of self respect and the spoils of success.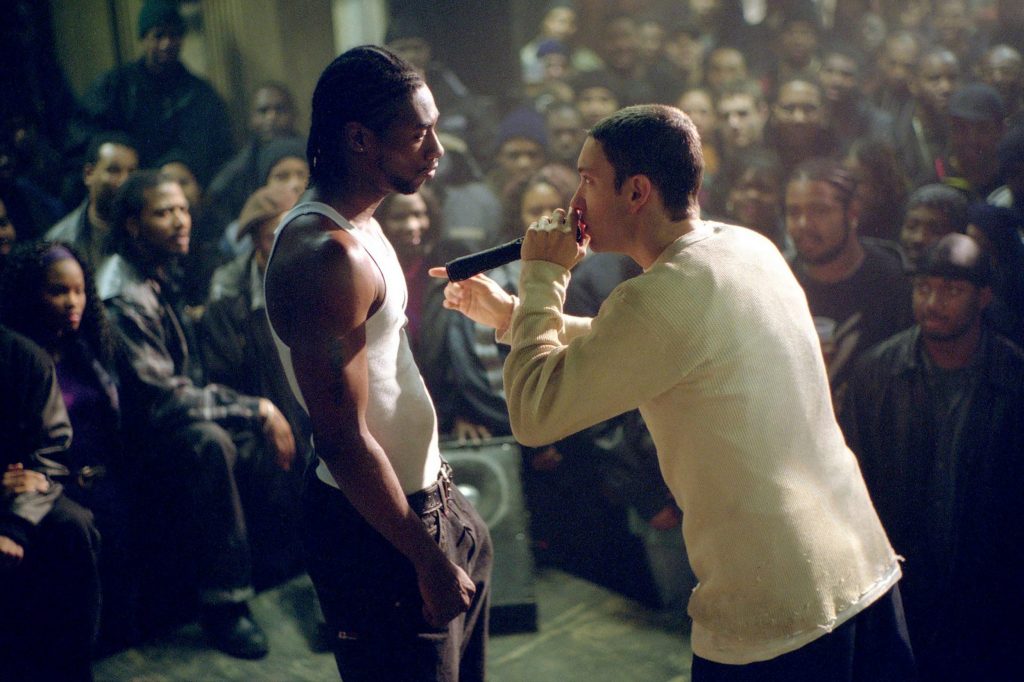 Chadwick Tyler shoots Michele Lamy's infamous smile while she gets ready for the Met 'Comme des Garçons' gala.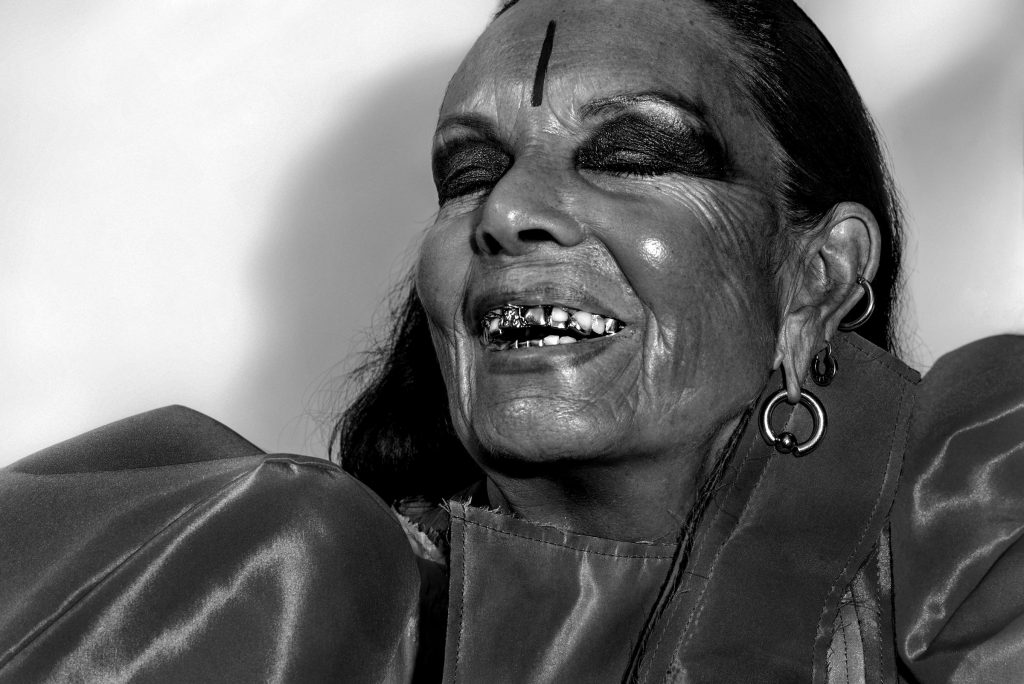 2018
MICHELE LAMY LAUNCHES LAMYLAND.
A platform for Lamy's followers to champion what they're fighting for.
"There's music, there's a stage, and then there's the smell of the sweat, the rapping, the ceremony. It's not a fight, it's about standing for what you believe in – our culture, our humanity. For me, it's all about performance."
– Michèle Lamy.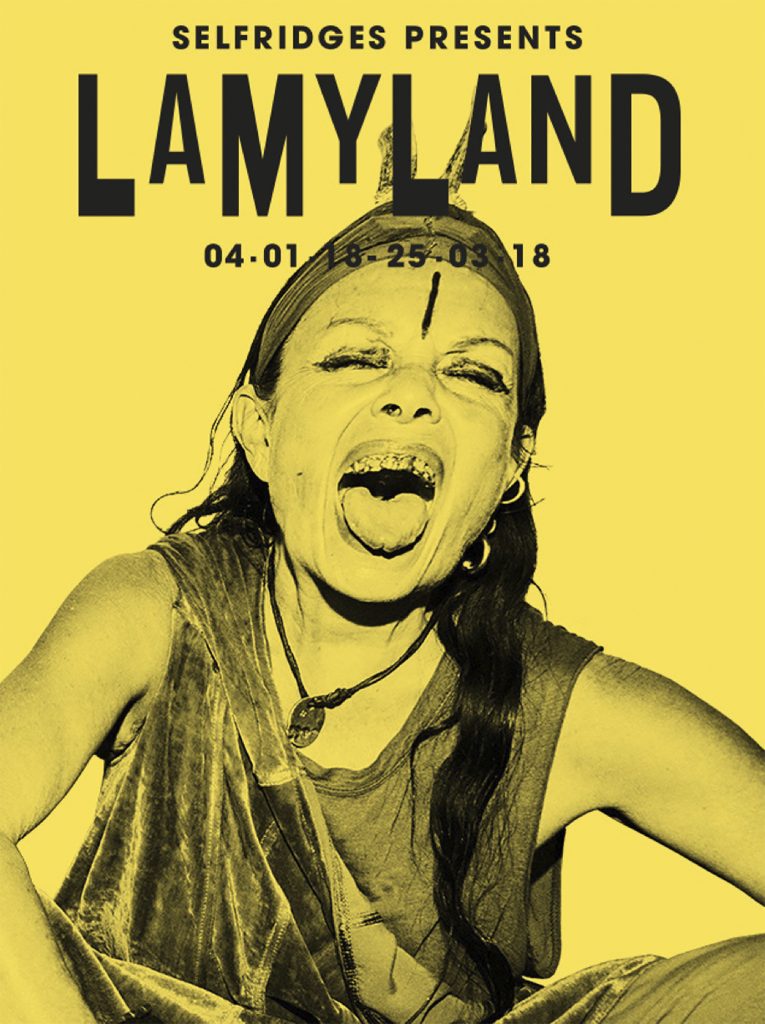 2018
BYRONESQUE DESIGNS THE OFFICIAL LAMYLAND T-SHIRT.
Inspired by the obscure historical narrative of boxing culture.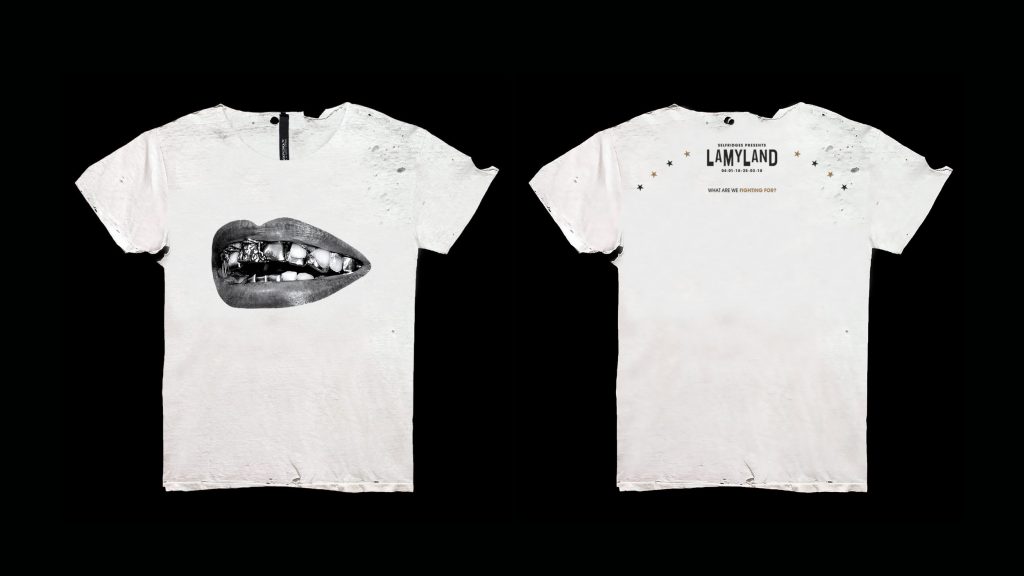 Dapper Dan custom makes original 'bootleg' Gucci for Devin Haney, WBC Lightweight Champion. 
Our T-shirt sells out. 
Rick Owens partners with Stussy, designs a T-shirt also featuring Michéle's mouth. Available at some good resale sites.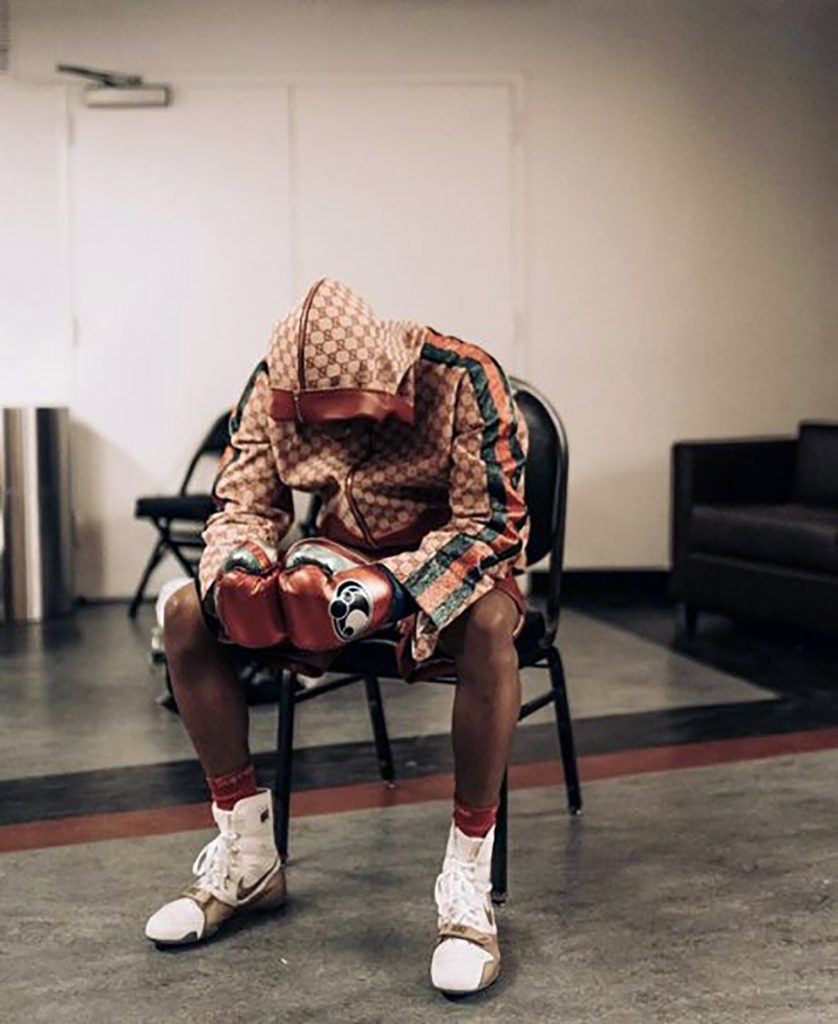 "WHAT I AM FIGHTING FOR EVOLVES IN TUNE WITH THE WORLD - POLITICALLY, SOCIALLY, ENVIRONMENTALLY.

CONTINUOUSLY ADAPT MY THINKING AS A RESPONSE TO WHAT IS UNFOLDING BEFORE US AND THEN FIGURE OUT HOW THAT PARTICULAR QUESTION (WAWFF?) CAN BECOME RELEVANT IN EACH NEW CONTEXT: SUBCULTURE WITH A SPECIAL SPOTLIGHT ON THE SKATE COMMUNITY, INVISIBLE WOMEN IN VISIBLE SITUATIONS, FAMILY - LITERAL/ EXTENDED/ METAPHORICAL."